September 14, 2016
#kltrip – Part One: Warming Up to Kuala Lumpur
Two pivotal trips bookended my twenties.
At 21, I took my first flight. (Yeah, I was a bit late to the travel party, okay?) Flying to Chicago during the summer in 2008 was my first chance to travel on my own. It led to me falling hard for the city; I'd move there five years later for grad school.
I remember the experience vividly. I was sitting next to a military officer who was returning to the Mid West after years of service in the Middle East. As I anxiously took in the sights from the airplane window, the veteran chuckled. "First flight, eh?"
The two-hour flight breezed by, but I recall the exhilaration I felt at the plane lifting off the tarmac. It wasn't just the physical rush that excited me. I was ignited a newfound spirit for adventure.
At 29, I decided to take that experience and amp it up. I finally felt ready to experience the world outside of the United States.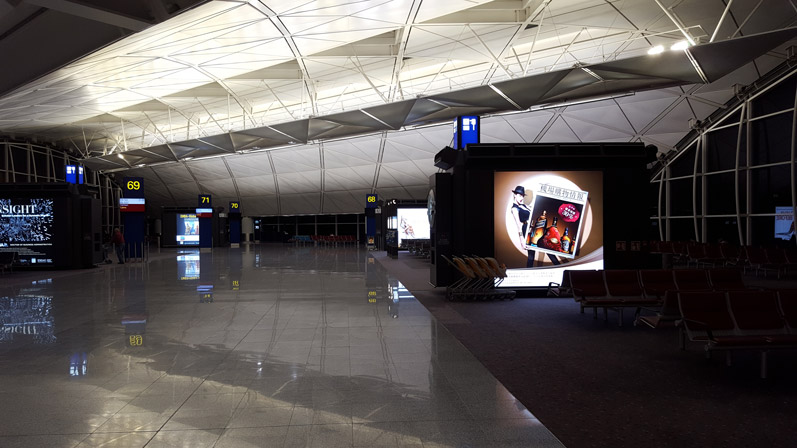 My itinerary took me from Chicago to Dallas, then north across the pacific to Hong Kong, and finally to Kuala Lumpur. With minimal delays (and the mundane comforts of on-demand movies and terrible-but-palatable airline food), I arrived in Kuala Lumpur at 2:30 a.m. on August 17th. I was clearly a newcomer at certain times – I had to get my bearings especially once I arrived in Hong Kong, and then again on my way to customs in Kuala Lumpur – but the experience was straightforward. I even enjoyed the few hours I had to kill in Hong Kong International Airport. A friend had warned me – don't lose too much time shopping there! She wasn't kidding. There's literally a mall full of stores within the terminal.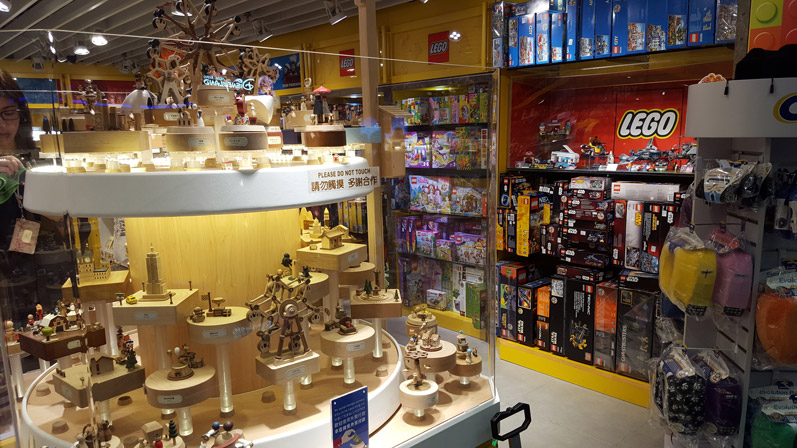 Kelvin was a lifesaver, as he asked his good friend (and one of our Coriolanus cast members) Amanda Ang to pick me up at KLIA. Having downloaded Whatsapp for all communication, and relying heavily on airport wi-fi to keep in touch, I made contact with Amanda once I arrived.
Stepping outside the airport, I was slapped in the face with humid summer heat. While I wasn't a stranger to summer weather, this was a much muggier climate than what I was experiencing in Chicago. If it was this hot at night, what would I have to deal with when the sun is out?
(Oh, I'd find out shortly enough.)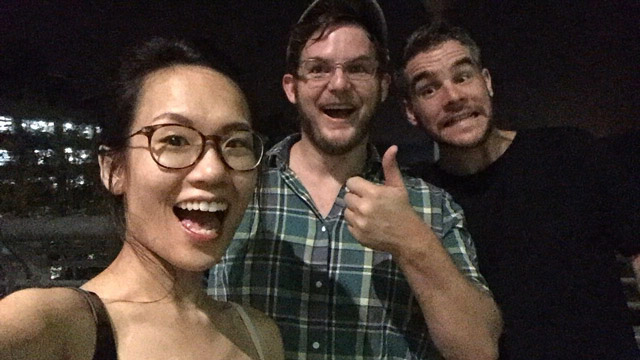 A little while later, I met with Amanda and another new friend/cast member, Andrew Wood. I was greeted with big smiles and incredibly gracious hospitality. As we drove to my AirBnB lodgings – about an hour away in KL proper – I quickly felt a rapport with the two of them. They filled me in on the arts scene in the city, of various things I should check out and explore during my time off, and even what food I should look into trying. Mind you, these were also two people who volunteered to come get me incredibly late in the evening on a weekday. I couldn't ask for two better faces to meet in my first hours in a brand new country.
Once I arrived at the condo towers I was staying, it took a bit of time for me to get situated at the apartment I'd be staying at. My subletter left the keys and front door pass at the security tower, and – despite having some initial communication challenges with the guards – I was helped into the building I was staying. I had a decent-sized room plus bathroom to myself in a penthouse apartment – shared with four other rooms with expats from a multitude of countries (from India to Vietnam). Thanks to the conversion rate and a very helpful AirBnB host/subletter, I was given a lot of help in settling into this new place.
Even with all of the online preparation, I was incredibly overwhelmed that first night. As I settled into this temporary home, a flood of feelings washed over me. The first wave of jetlag mixed in with fear and anxiety. I remember laying in my bed, eyes wide open, not totally processing the experience thus far. I would be lying if I said I wasn't scared. I was. But I also was proud of getting this far. I couldn't wait to start getting out and seeing more of this huge city.
My first week was all about getting situated in my new surroundings. Our first rehearsal for Coriolanus was pushed back due to a few casting changes, so I would now have two weeks to get comfortable in Kuala Lumpur as opposed to two days. While I wanted to get to work right away, I took this as an opportunity to learn what I could about the city.
Now, I had read up on Kuala Lumpur to know the basic facts – the origins of the country, the cultural history, etc. Reading was absolutely helpful, but nothing could prepare me for the number of culture shock moments. Each day, I found myself stung by jarring reminders that I have a narrow window to the rest of the world.
My cultural observations could probably fill a whole notebook. In my head, I started cataloguing all of the strange, interesting differences I encountered. "Goods are packaged in way smaller quantities here than in the States!" "Street vendors here sell way better food than the restaurants!" "Wow, there are shopping malls literally EVERYWHERE." "Good god, this traffic…" I was afraid I'd annoy my new friends with the weird observations I was picking up. Yet, I found myself learning more about what my expectations were as an American, and opened myself up to experiencing life with a different lens.
I'd probably have a much different reaction if I weren't staying in a metropolis of a city like Kuala Lumpur. I found I had enough access to goods, technologies, and services that I could easily recognize. Plus, I'd learn that most people speak English well enough for a Western traveler to get by. More and more, the city was becoming less like a foreign country, and more like a city that I vaguely recognized. I liken the experience to spending the first few days in New York when you've lived in a much smaller city – it's a constant game of catching up.
The experience of being in a new country became less and less harrowing the more I explored. It also helped once I made new friends who could show me around the city.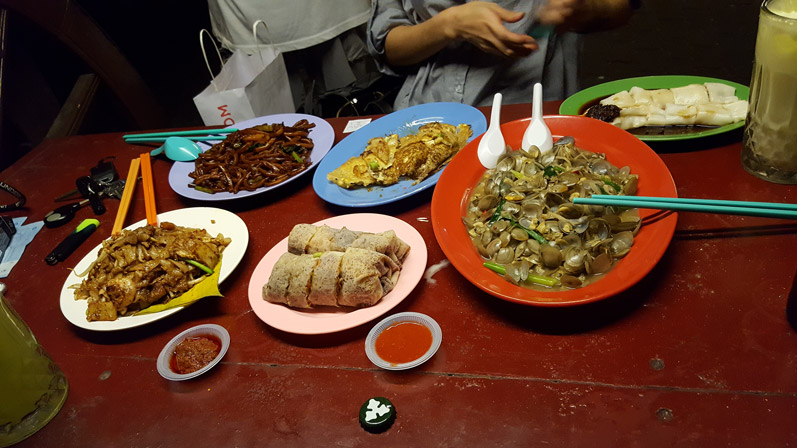 On one of my first nights in Kuala Lumpur, Kelvin and Amanda took me Ming Tien to experience some of the best food I've had up to this point. When I first heard I'd be going to a 'food court', I immediately though I'd be in a packed shopping mall filled with burger franchises and the occasional Orange Julius. Ming Tien was a different type of food court. Here you have a number of tables outside surrounded by rows of cooks serving nearly every conceivable variation of Asian food you could imagine. Once we found a place to sit, Kelvin took me around to the various vendors, pointing out tons of dishes, and selecting a few things for me to try. It was an impossible task for me to remember everything he recommended.
Rather than paying for our dishes there, we made our orders with each vendor and gave them our table number. Then, once we sat down, dish after dish arrived. Our table was full of flavorful noodles, rice dishes, omelettes… I literally couldn't keep track of everything I was trying. And yet, all of the food was extremely cheap (in comparison to what I guessed).
The biggest hurdle for me to get over was how rich in flavor everything was. I'm also not the biggest fan of spicy food, but a lot of the dishes here had varying levels of spice. I quickly found what foods were too hot for me to handle.
I was a bit embarrassed that night when I couldn't get through most of the dishes. Even with Amanda and Kelvin there to help me out, we still got half of our food finished. But our bellies felt hella content. We joked that I'd have to do a lot of food training to keep up with the eating culture here.
If this was just a glimpse into the types of food here in KL, I knew I was in for a fun trip. Though I hoped to not just spend all of my time eating!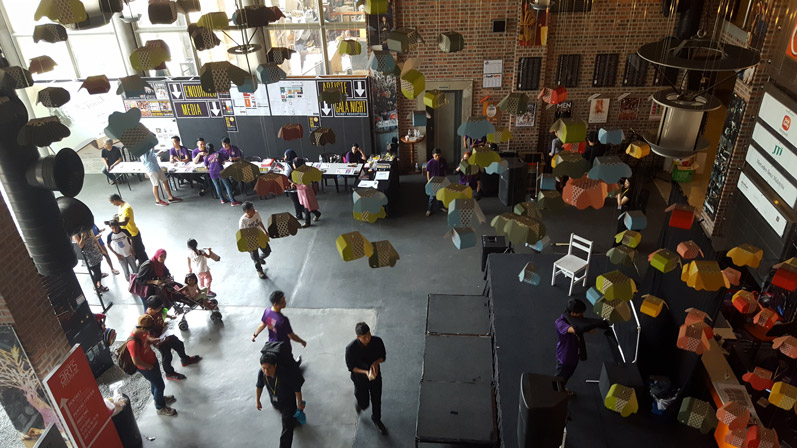 On my first open weekend, I was invited to come check out the Kuala Lumpur Performing Arts Center for the first time. KLPAC was hosting a free Malaysian community arts festival called the YSDAF (Yayasan Sime Darby Arts Festival), and I spent my Saturday and Sunday bouncing about the building to experience the various theatre, dance, and music performances. I immediately took in how much of a community event this was; Malaysians from different backgrounds were able to take part in music, theatre, and dance-related workshops, and witness snippets of plays, films, concerts, and dance performances.
I quickly immersed myself in the festival. On Saturday Afternoon, I watched an Indian drum group pull together chairs into a circle, gather nearby attendees, hand them instruments, and cheerfully ask them to play along. One of the players saw me and immediately motioned for me to sit. While I wanted to simply observe the event, I was taken in by the welcoming energy and decided I'd join. The other chairs started filling up, and suddenly I'm making music with a diverse group of Malaysians. The mood was infectious. I let go of my reservations and started to feel less like a tourist, and more like a welcome guest.
Attending this festival as a foreigner, I was reminded of art's universal appeal. I witnessed a young quartet riff on Beyonce and other Western pop icons, and heard the crowd shower them with praise. Later, I watched an improve group use comedy – especially methods developed and honed by groups in Chicago! – to appeal to their Malaysian audience with a bit about police corruption. I even got to check out an excerpt of a play that was performed in Malay; while I couldn't understand the words that were being spoken, I could understand the storytelling to a degree. I was witnessing a quarrel between lovers with major cultural boundaries between them.
The festival energized me, and it was a wonderful first experience at KLPAC. I quickly found myself at home there, and became more
Despite all of the fun I was having, it was soon time to brace myself for the work I came to do. Within a few days, I was gearing up for rehearsals with Kelvin. We met a few more times (over food, of course) to discuss our plans, and our production of Coriolanus became grounded in our video game approach.
Kelvin had a sudden realization one evening where he wanted to rename the production; he pitched 16-Bit Coriolanus. I loved the name – it was true to our animated, fast-paced concept of the play. It also reminded us that we were stripping away a good chunk of the text, and attempting to streamline the play into a much simpler 85-minute experience.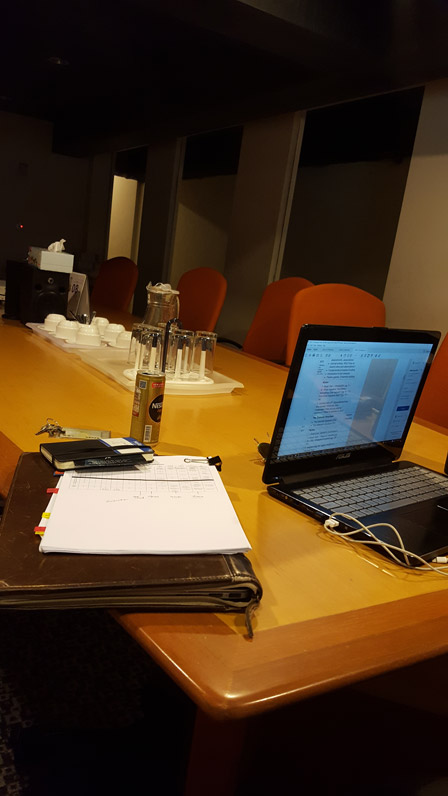 We held a production meeting a few days prior to rehearsals, and we were introduced to our stage managers, Jiacy and Felicia. Kelvin and I also had the chance to sit down and determine how we would work in the rehearsal room. The two of us hadn't co-directed a play before, but we felt as though our vision was cohesive enough to trust that we could equally steer the production.
But we decided we'd try a fun experiment. Rather than dual-directing the production, Kelvin offered up an idea.
"What if we split up directing the play? One of us could direct the first half; the other, the second."
This idea became exciting to both of us, as we could effectively put our focus onto half of the play, and assist the other director on the other half. We'd get a chance to observe each other in the room, but also keep an eye on how our choices would affect the rest of the play.
It felt like the kind of fun assignment we'd get in graduate school. Sure, it might seem a bit different than how I'd normally work on a play. But, this was a whole new experience. Why not embrace the danger?
So, we settled – Kelvin would take on the first half of 16-Bit Coriolanus, directing the first eleven scenes (leading up to the Roman people revolting against Coriolanus). I would direct the second half. Kelvin would initiate the first image of the play, while I was in charge of the end.
I was extremely excited by this idea. I would get to witness Kelvin work with actors he knew very well, and also see a close colleague direct in the room. Then, after being warmed up to the group, I'd be given the chance to work with the team and bring the story to a conclusion.
We finalized our plans heading into our first read, and Kelvin finalized our cast. It would be a diverse group of actors – some he knew from his previous work in Malaysia, and some who came from different 'camps' and circles. His excitement in tackling this project matched mine.
It was time to get started on 16-Bit Coriolanus.
In the next entry, I'll highlight the first week of 16-Bit Coriolanus – from our first read to our staging of Kelvin's first half!